Shakti Yantra Ring ~ Lakshmi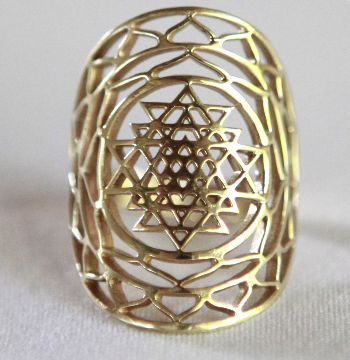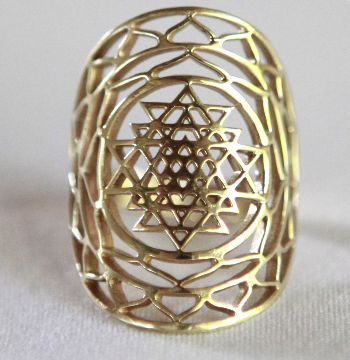 Shakti Yantra Ring ~ Lakshmi
Lakshmi is the Goddess of Abundance & Beauty. Lakshmi's worldly gifts are the greatest prizes of life on earth – wealth, power & beauty – so alluring, so desirable that human beings as well as Gods are tempted to extremes for their sake.
Evoking or Meditating upon Lakshmi arouses a sense of abundance, open hearted, trust in life & the perfect balance of inner & outer beauty. She is the Goddess to call upon when we seek more abundance in our lives, in all forms - money, beauty, friendship, health, spirituality, love.
Yantras
For thousands of years, Yantras have been used in the Tantric tradition as visual metaphors for the body of the divine. Tantric practitioners advise to mediate upon a deity (Goddess), to bring forth the different aspects & qualities to the psyche. As expressions of devotion & contemplation, meditating upon them is paramount to returning to the true nature of one's being. Because Yantras are comprised of archetypal geometric forms & shapes, they are believed to offer liberation from bondage. And evoke the particular qualities of that Goddess you are meditating upon.
ABOUT
MATERIAL: Brass
SIZING: One Size, with adjustable back
Includes:
1 x Brass Shakti Yantra Ring (Lakshmi)
1 x Tantric Alchemy Tote Bag
Detailed description of the Lakshmi Goddess energy.
Each Ring has been meditated upon, blessed & encoded with that particular Goddess energy to support you evoking her into your life.